NEW ARRIVAL - Surprise Wide Masking Tape and Round Cloth-Covered Mirror
2018/06/13(Wed) 13:50:00
See all SLIM BOY products ("Surprise" seiries)
NEW ARRIVAL - Colorful Book Jacket
2018/06/09(Sat) 17:24:14
NEW ARRIVAL - New colors and models of Aranzi Signo Pen
2018/06/07(Thu) 20:47:04
NEW ARRIVAL - New colors of Highlighters
2018/06/07(Thu) 20:41:04
NEW ARRIVAL - four new versions of Panda Brush Pen
2018/06/07(Thu) 20:30:29
NEW ARRIVAL - Smartphone Ring Holder
2018/06/07(Thu) 20:26:21
NEW ARRIVAL - TSUBAME x Aranzi collaborated notebooks
2018/06/07(Thu) 20:18:50
NEW ARRIVAL - A wide range of stationery
2018/06/07(Thu) 20:06:02
T-shirt Fair 2018 was over.
2018/06/07(Thu) 20:02:54
T-shirt Fair was over with running out of the complimentary vinyl pouches. Thank you very much.
T-shirt Fair 2018 just begun!
2018/05/08(Tue) 15:56:57
Our annual summer event "T-shirt Fair 2018" has just begun.
During the event,
orders exceeding more than 3000yen worth of the products at one order will get a free gift - cute and useful vinyl pouch.


(It doesn't matter whether the orders include a T-shirt or not.)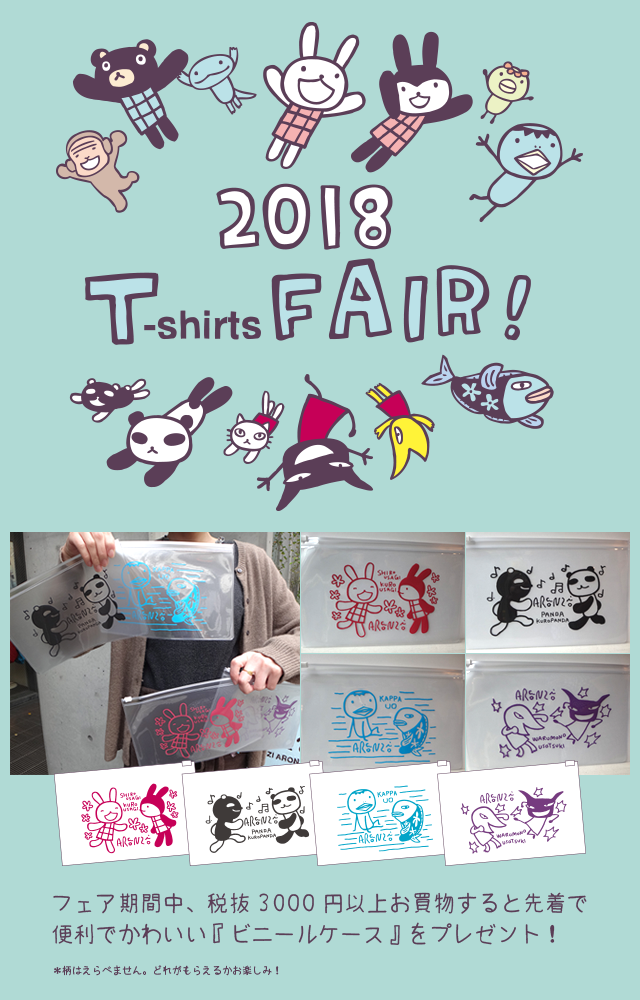 The gift pouch comes with total four patterns, which are the same prints of the 2018-model T-shirts.
*Your vinyl pouch is arranged by us.
The event ends as soon as the stock of the gifts has run out. Don't pass up the chance!

Thank you for checking our store. Take your time and enjoy fun shopping with us.


Copyright2009
All rights reserved.